Zonka Feedback Awarded with eleven Recognitions by G2 Crowd in Fall 2021
With brilliant reviews and ratings by users, G2 Crowd awarded Zonka Feedback eleven recognitions in categories like Survey, Feedback Analytics, and Experience Management.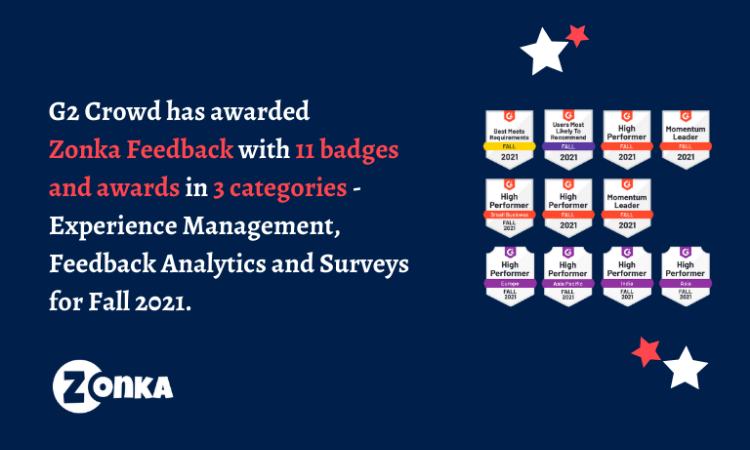 September 15, 2021 - Gurugram, Haryana- Zonka Feedback, a leading Survey App and Experience Management platform, has been awarded eleven badges of recognition at once by G2 Crowd in its Fall 2021 grid reports. Being awarded by G2 Crowd has added more achievements in the bucket of Zonka Feedback.
G2 Crowd is a famous software peer-to-peer review platform that focuses on getting user reviews and ratings about various software and apps. It evaluates these reviews and ratings every quarter and gives titles to different software companies as per the reviews. Earlier also, G2 Crowd has awarded the title of 'High Performer' to Zonka Feedback in the category of Experience Management four times in a row.
And this time, Zonka Feedback managed to get eleven of these titles in different categories, viz., Survey, Feedback Analytics, and Experience Management. The recognitions awarded to Zonka Feedback in the Fall 2021 reports are:
In the Category of Survey:
High Performer Fall 2021 in the Grid Report for Survey

Momentum Leader Fall 2021 in the Momentum Grid Report

High Performer Small Business Fall 2021 in the Small Business Grid Report

High Performer India Fall 2021 in the India Regional Grid Report

High Performer Asia Fall 2021 in the Asia Regional Grid Report

High Performer Asia Pacific Fall 2021 in the Asia Pacific Grid Report

High Performer Europe Fall 2021 in the Europe Regional Grid Report
In the Category of Feedback Analytics:
High Performer Fall 2021 in the Grid Report for Feedback Analytics
In the Category of Experience Management:
High Performer Fall 2021 in the Grid Report for Experience Management

Best Meets Requirement Fall 2021 in the Index Report

Users Most Likely to Recommend Fall 2021 in the Index Report
Being awarded these recognitions is evidence of the efforts of Zonka Feedback and its zeal to satisfy the needs of the customers, which have made entitled to receive the Best Meets Requirement Award. Zonka Feedback is a growing company and is constantly working with the approach of continuous improvement.
The success of Zonka Feedback goes through the journey of success of its customers, and Zonka Feedback is determined to help its clients achieve success. With the incredible momentum of continuous betterment, Zonka Feedback rightly deserves the title of Momentum Leader. Its ever-increasing market presence has made it a High Performer in the Small Business Grid Report.
The software helps create all types of surveys, be it Customer Surveys, Patient Surveys, Guest Surveys, Employee Surveys, or Student Surveys. To make it further easy for the clients, it has ready-to-use templates for different survey types. Also, the clients can choose to start the survey from scratch and include the questions from the available 40+ question types.
This level of intelligent customization makes the work easy for the clients and helps them create surveys the way they want. Moreover, the clients can also create surveys to find metrics like NPS, CSAT, and CES to measure customer loyalty, satisfaction, and ease of customers to work with them.
The level of satisfaction and eases Zonka Feedback offers to its customers have caused them to recommend it to their known ones as well and have brought itself the title of 'Users Most Likely to Recommend' software and helped it reach the top. Zonka Feedback has been adding integrations since last year with powerful and popular tools like Shopify, Slack, Mailchimp, and more to make further the work easier! Also, features like instant feedback alerts help clients know negative feedback on time and work on it to improve the experience and prevent churn.
Read More @ https://www.zonkafeedback.com/blog/g2-crowd-awards-zonka-feedback-high-performer-momentum-leader-fall-2021
About G2:
G2 is a popular peer-to-peer review website that facilitates a platform for software companies to get reviews and ratings from users. The website is used by technology buyers and businesses thinking of buying or investing in software or apps. They can refer to this platform and view users' ratings and reviews before deciding to buy an app or software.
The company is based in Chicago, Illinois, and was started by former employees of BigMachines in May 2012. The biggest strength of this platform is its authenticity, as it has its own algorithms to check the authenticity of the reviews, and it also asks for screenshots from the users to verify their reviews.
G2 Crowd does independent evaluation of various software and apps each quarter based on honest user reviews and ratings, making it a trustworthy source of information for the businesses planning to buy an app or software.
About Zonka Feedback:
Zonka Feedback is a Feedback Software and Experience Management platform that facilitates creating all types of surveys and sending them to the customers through multiple channels. It helps the users collect survey responses and feedback and enables them to take timely action on the feedback received by sending instant notifications on receiving a survey response so that the users can work on it to improve the customer experience.
Zonka Feedback follows customer-friendly approaches and works on the principle of earning success through customers' success. Its customers have recognized this and have brought so many awards through their positive ratings and reviews.
"Needless to say that the badges and awards from G2 give us a lot of pride here at Zonka Feedback. But they are also proof that we're continuing to bring value to our customers with a solution that is both simple to implement and powerful to use. We are extremely grateful to our customers for their reviews. And we're ecstatic that we have moved from being a high performer to a momentum leader. The recognitions further strengthen our focus on customers and their requirements, and in always prioritizing customer satisfaction as we grow." says Sonika Mehta, the co-founder of Zonka Feedback.
To know more about Zonka Feedback, visit the Zonka Feedback's profile page at G2 or sign up for a free trial.
1st Floor Plot no. 55 P Sector 44, Gurgaon Haryana, 122003 Email -
[email protected]
Phone - +91-9999849771